Tuesday, 12 July 2016 23:20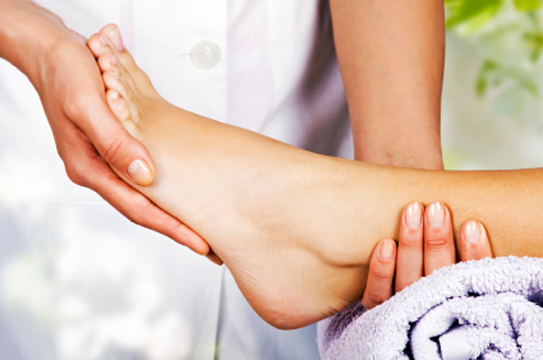 Care for ingrown toenails often begins with good practices at home. In order to prevent ingrown toenails, you should cut your nails straight across instead of cutting them in a rounded shape. Be careful not to cut your toenails too short and to wear shoes that fit properly. Soaking the feet in warm water 3-4 times per day can also help relieve pressure in the skin surrounding the ingrown nail. Consult with your podiatrist for the best way to treat ingrown toenails.
Ingrown toenails can become painful if they are not treated properly. For more information about ingrown toenails, contact one of our podiatrists of The Podiatry Center, P.C. Our doctors will answer any of your foot- and ankle-related questions.
Ingrown Toenails
Ingrown toenails occur when a toenail grows sideways into the bed of the nail, causing pain, swelling, and possibly infection.
Causes
Bacterial infections
Improper nail cutting such as cutting it too short or not straight across
Trauma to the toe, such as stubbing, which causes the nail to grow back irregularly
Ill-fitting shoes that bunch the toes too close together
Genetic predisposition
Prevention
Because ingrown toenails are not something found outside of shoe-wearing cultures, going barefoot as often as possible will decrease the likeliness of developing ingrown toenails. Wearing proper fitting shoes and using proper cutting techniques will also help decrease your risk of developing ingrown toenails.
Treatment
Ingrown toenails are a very treatable foot condition. In minor cases, soaking the affected area in salt or antibacterial soaps will not only help with the ingrown nail itself, but also help prevent any infections from occurring. In more severe cases, surgery is an option. In either case, speaking to your podiatrist about this condition will help you get a better understanding of specific treatment options that are right for you.
If you have any questions please contact our offices located in Millburn, NJ. We offer the newest diagnostic and treatment technologies for all your foot and ankle needs.
Read more about Ingrown Toenails
Monday, 04 July 2016 23:24
Gout is a painful type of arthritis that is caused by high blood levels of uric acid. It can keep people off of their feet for several days. Hard uric acid crystal deposits can cause swelling and deformity. Gout is a permanent condition; however its symptoms are not always visible. Gout must be properly managed in order to relieve the severe pain. People who have gout should make dietary modifications and take their medication regularly. Sufferers should also drink plenty of water and maintain a healthy weight to reduce the risk of future gout attacks.
Gout is a foot condition that requires certain treatment and care. If you are seeking treatment, contact one of our podiatrists of The Podiatry Center, P.C. Our doctors will treat your foot and ankle needs.
What is Gout?
Gout is a type of arthritis caused by a buildup of uric acid in the bloodstream. It often develops in the foot, especially the big toe area, although it can manifest in other parts of the body as well. Gout can make walking and standing very painful and is especially common in diabetics and the obese.
People typically get gout because of a poor diet. Genetic predisposition is also a factor. The children of parents who have had gout frequently have a chance of developing it themselves.
Gout can easily be identified by redness and inflammation of the big toe and the surrounding areas of the foot. Other symptoms include extreme fatigue, joint pain, and running high fevers. Sometimes corticosteroid drugs can be prescribed to treat gout, but the best way to combat this disease is to get more exercise and eat a better diet.
If you have any questions, please feel free to contact our office located in Millburn, NJ. We offer the newest diagnostic and treatment technologies for all your foot care needs.
More...