Monday, 27 July 2015 14:23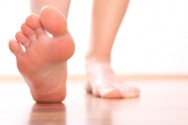 Right-hander Aaron Harang of the Philadelphia Phillies was placed on the 15-day disabled list recently after being diagnosed with plantar fasciitis in the left foot. Phillies interim manager Pete Mackanin says that Harang has been bothered by the injury for a while: "When you stomp down on it, it started affecting his performance basically, and we as we talked (about) last night, there's something missing with his command and that's probably a good reason why." Harang could potentially make starts before trade deadline if he spends the minimum amount of time on the disabled list, but plantar fasciitis injuries are known to be tough to heal fast.
Plantar fasciitis can be very painful and inconvenient. If you are experiencing heel pain or symptoms of plantar fasciitis, visit Dr. Howard Hyman and Dr. Karyn Goldberg of The Podiatry Center, P.C. Our doctors can treat your heel pain as well as any other foot or ankle condition.
What is Plantar Fasciitis?
Plantar fasciitis is the inflammation of a the thick band of tissue that runs along the bottom of your foot, known as the plantar fascia, and causes mild to severe heel pain.
What Causes Plantar Fasciitis?
· Excessive running
· Non-supportive shoes
· Overpronation
· Repeated stretching and tearing of the plantar fascia
How Can It Be Treated?
· Conservative measures – anti-inflammatories, ice packs, stretching exercises, physical therapy, orthotic devices
· Shockwave therapy – sound waves are sent to the affected area to facilitate healing and are usually used for chronic cases of plantar fasciitis
· Surgery – usually only used as a last resort when all else fails. The plantar fascia can be surgically detached from the heel
While very treatable, plantar fasciitis is definitely not something that should be ignored. Especially in severe cases, speaking to your doctor right away is highly recommended to avoid complications and severe heel pain. Your podiatrist can work with you to provide the appropriate treatment options tailored to your condition.
If you have any questions, please contact our offices in Millburn, NJ. We offer the newest diagnostic and treatment technologies for all your foot and ankle injuries.
Monday, 20 July 2015 10:27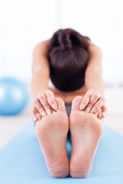 During Kim Kardashian's first pregnancy, she was known for wearing high heels despite suffering from extreme edema, or swollen feet. However, it seems she has learned her lesson and will opt for more comfortable shoes during her current pregnancy. The reality star recently posted to photo sharing app Instagram featuring her husband's new sneaker line stating, "So happy I ran back inside to grab these! Lifesaver on these long flights! Most comfy shoes in the world!"
A supportive and comfortable shoe is the best choice for feet during pregnancy. If you have any concerns contact one of our podiatrists of The Podiatry Center, P.C. Our doctors will treat your foot and ankle needs.
What foot problems can arise during pregnancy?
One problem that can occur is over-pronation, which occurs when the arch of the foot flattens and tends to roll inward. This can cause pain and discomfort in your heels while you're walking or even just standing up, trying to support your baby.
Another problem is edema, or swelling in the extremities. This often affects the feet during pregnancy, but tends to occur in the later stages.
How can I keep my feet healthy during pregnancy?
Wearing orthotics can provide extra support for the feet and help distribute weight evenly
Minimize the amount of time spent walking barefoot
Wear shoes with good arch support
Wear shoes that allow for good circulation to the feet
Elevate feet if you experience swelling
Massage your feet
Get regular, light exercise, such as walking, to promote blood circulation to the feet
If you have any questions please feel free to contact our office located in Millburn, NJ. We offer the newest diagnostic tools and technology to treat your foot and ankle needs.
Read more about pregnancy and feet.
More...