Monday, 26 September 2016 20:53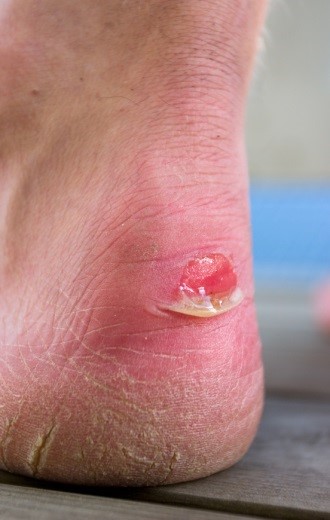 Blisters are a fairly common foot condition that can be easily prevented with a few simple steps. The first step is to always ensure the feet are kept clean to prevent any germs or bacteria from penetrating the skin. Wearing the right pair of socks can also help support the feet and reduce friction, which can create blisters. Applying bandages or Band-Aids to any already existing blisters can help reduce excess heat or additional friction that can exacerbate the blister.
Blisters are prone to making everyday activities extremely uncomfortable. If your feet are hurting, contact one of our podiatrists of The Podiatry Center, P.C. Our doctors will assist you with all of your podiatric concerns.
Foot Blisters
Foot blisters develop as a result of constantly wearing tight or ill-fitting footwear. This happens due to the constant rubbing from the shoe, which can often lead to pain.
What are Foot Blisters?
A foot blister is a small fluid-filled pocket that forms on the upper-most layer of the skin. Blisters are filled with clear fluid and can lead to blood drainage or pus if the area becomes infected.
How do Blisters Form?
Blisters on the feet are often the result of constant friction of skin and material, usually by shoe rubbing. Walking in sandals, boots, or shoes that don't fit properly for long periods of time can result in a blister. Having consistent foot moisture and humidity can easily lead to blister formation.
Prevention & Treatment
It is important to properly care for the affected area in order to prevent infection and ease the pain. Do not lance the blister and use a Band-Aid to provide pain relief. Also, be sure to keep your feet dry and wear proper fitting shoes. If you see blood or pus in a blister, seek assistance from a podiatrist.
If you have any questions, please feel free to contact our office located in Millburn, NJ. We offer the newest diagnostic and treatment technologies for all your foot and ankle needs.
Monday, 19 September 2016 21:16

Julian Edelman of the New England Patriots recently left practice after suffering an injury in his lower leg. Initial exams indicated that the injury he suffered was not serious. Although his newest injury is believed to be trivial, there is a lot of concern over his left foot which he fractured last season. Fortunately for Edelman, the team decided that he is healthy enough to be taken off the physically unable to perform list.
Sports related foot and ankle injuries need proper treatment before players can go back to their regular routines. For more information, contact one of our podiatrists of The Podiatry Center, P.C. Our doctors can provide the care you need to keep your pain free and on your feet.
Sport Related Foot and Ankle Injuries
Foot and ankle injuries are a common occurrence when it comes to athletes of any sport. While many athletes dismiss the initial aches and pains, the truth is that ignoring potential foot and ankle injuries can lead to serious problems. As athletes continue to place pressure and strain the area further, a mild injury can turn into something as serious as a rupture and may lead to a permanent disability. There are many factors that contribute to sports related foot and ankle injuries, which include failure to warm up properly, not providing support or wearing bad footwear. Common injuries and conditions athletes face, including:
Plantar Fasciitis
Plantar Fasciosis
Achilles Tendinitis
Achilles Tendon Rupture
Ankle Sprains
Sports-related injuries are commonly treated using the RICE method. This includes rest, applying ice to the injured area, compression and elevating the ankle. More serious sprains and injuries may require surgery, which could include arthroscopic and reconstructive surgery. Rehabilitation and therapy may also be required in order to get any recovering athlete to become fully functional again. Any unusual aches and pains an athlete sustains must be evaluated by a licensed, reputable medical professional.
If you have any questions please feel free to contact one of our offices located in in Millburn, NJ. We offer the newest diagnostic and treatment technologies for all your foot and ankle needs.
More...