Tuesday, 31 January 2017 00:00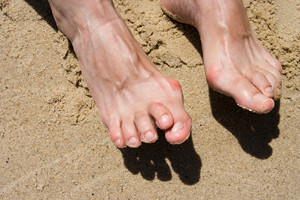 If you have hammertoes, it may be due to a number of factors including improperly-fitting shoes or muscle and nerve diseases that can affect your feet. Hammertoes are described as bent and curled toes, seeming to resemble the claw of a hammer. The condition is permanent and may require treatment if pain progresses. Typical treatment includes wearing the proper footwear and physical therapy. A final option is surgery for severe cases, but consulting with your podiatrist first about your condition is recommended before deciding on the surgical option.
Hammertoe
Hammertoes can be a painful condition to live with. For more information, contact one of our podiatrists of The Podiatry Center, PC. Our doctors will answer any of your foot- and ankle-related questions.
Hammertoe
Hammertoe is a foot deformity that affects the joints of the second, third, fourth, or fifth toes of your feet. It is a painful foot condition in which these toes curl and arch up, which can often lead to pain when wearing footwear.
Symptoms
Pain in the affected toes
Development of corns or calluses due to friction
Inflammation
Redness
Contracture of the toes
Causes
Genetics – People who are genetically predisposed to hammertoe are often more susceptible
Arthritis – Because arthritis affects the joints in your toes, further deformities stemming from arthritis can occur
Trauma – Direct trauma to the toes could potentially lead to hammertoe
Ill-fitting shoes – Undue pressure on the front of the toes from ill-fitting shoes can potentially lead to the development of hammertoe
Treatment
Orthotics – Custom made inserts can be used to help relieve pressure placed on the toes and therefore relieve some of the pain associated with it
Medications – Oral medications such as anti-inflammatories or NSAIDs could be used to treat the pain and inflammation hammertoes causes. Injections of corticosteroids are also sometimes used
Surgery – In more severe cases where the hammertoes have become more rigid, foot surgery is a potential option
If you have any questions please contact our office located in Millburn, NJ. We offer the newest diagnostic and treatment technologies for all your foot and ankle needs.
Read more about What Are Hammertoes?
Wednesday, 25 January 2017 00:00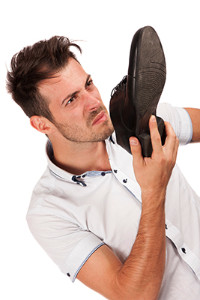 When the feet are kept wrapped up in thick socks and heavy winter boots, sweat is no surprise. Sweat from the feet is a natural occurrence, however there are a number of tips you can rely on to ease sweaty and potentially smelly feet: Take off your shoes as soon as you get home to air out the feet, rotate between shoes and avoid wearing the same pair consistently everyday, and wash the feet thoroughly when bathing, especially after exercise. If you are experiencing sweaty feet all year round, you may have a disorder called hyperhidrosis. Speak with your doctor in order to discuss treatment options for this condition.
If you are suffering from hyperhidrosis contact one of our podiatrists of The Podiatry Center, PC. Our doctors can provide the care you need to attend to all of your foot and ankle needs.
Hyperhidrosis of the Feet

Hyperhidrosis is a rare disorder that can cause people to have excessive sweating of their feet. This can usually occur all on its own without rigorous activity involved. People who suffer from hyperhidrosis may also experience sweaty palms.

Although it is said that sweating is a healthy process meant to cool down the body temperature and to maintain a proper internal temperature, hyperhidrosis may prove to be a huge hindrance on a person's everyday life.

Plantar hyperhidrosis is considered to be the main form of hyperhidrosis. Secondary hyperhidrosis can refer to sweating that occurs in areas other than the feet or hands and armpits. Often this may be a sign of it being related to another medical condition such as menopause, hyperthyroidism and even Parkinson's disease.
In order to alleviate this condition, it is important to see your doctor so that they may prescribe the necessary medications so that you can begin to live a normal life again. If this is left untreated, it is said that it will persist throughout an individual's life.

A last resort approach would be surgery, but it is best to speak with your doctor to find out what may be the best treatment for you.
If you have any questions please feel free to contact our office located in Millburn, NJ. We offer the newest diagnostic and treatment technologies for all your foot and ankle needs.
Read more about Hyperhidrosis of the Feet
More...