Monday, 18 February 2013 21:40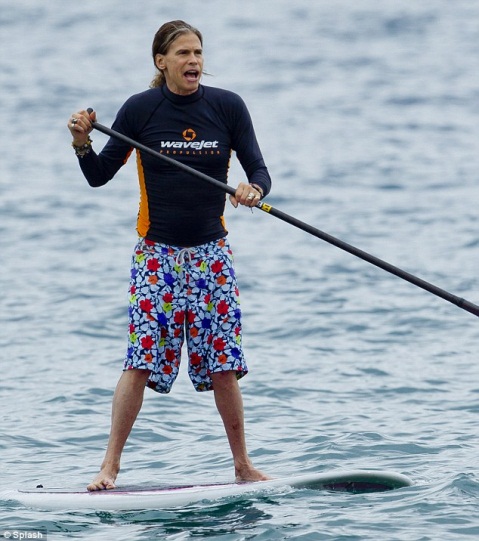 Steven Tyler, front man for leading band Aerosmith, was diagnosed with Morton's Neuroma. Since the 1970s the lead singer would wear small shoes and his energetic stage performances caused him to suffer foot pain in the past. Tyler had posted pictures from his vacation in Hawaii with his family, displaying his deformed and swollen toes. According to Tyler, doctors stated the pain in his feet can be corrected with surgeries over time. However, his condition does not appear to be holding him back or slowing him down, especially during his family vacation.

Morton's Neuroma is a condition that can be very painful and resulted in twisted toes if not treated properly. If you are experiencing pain in your feet, it is best to seek a podiatrist such as of Dr. Howard Hyman of The Podiatry Center, P.C.  Dr. Hyman can examine your feet and work with you to provide the appropriate treatment options to ensure safe foot recovery.

Morton's Neuroma

Morton's neuroma is a painful foot condition that commonly affects the areas between the third and fourth toe and the ball of the foot, although other areas of the foot are also susceptible to this condition. Morton's neuroma is caused by an inflamed nerve in the foot that is being squeezed and aggravated by surrounding bones.  Women are more likely than men to have an occurrence of this foot condition. When a person has Morton's neuroma, it can feel as if they are walking on stones or marbles.

What Increases the Chances of having Morton's Neuroma?

-Ill-fitting high heels or shoes that add pressure to the toe or foot area.
-Jogging, running and any sports that involve constant impact to the foot area.
-Flat feet, bunions, and any other foot deformity may put you at a higher risk for developing Morton's neuroma.

To learn more about Morton's Neuroma and other nerve disorders of the foot, visit the link below

If you have any questions, please feel free to contact our office in Milburn NJ. We offer the newest diagnostic and treatment technologies for all your foot ankle injuries.

Read more on Morton's Neuroma.
Wednesday, 13 February 2013 21:39
As a therapist, I have years of experience and a diverse range of qualifications and skills, which means I can cover many issues you might be facing in your life from confidence building to insomnia, stop smoking, pain relief, phobias, bereavement, anxiety, depression, career change, relationship problems and many other common issues we face in our lives.
More...