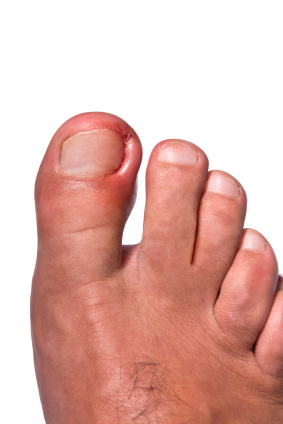 An ingrown toenail is caused when a toenail grows sideways into the bed of the nail, causing pain and swelling. Sometimes this can become infected causing drainage and may become serious.

There are many risk factors that can predispose a person to this common condition. Cutting your nails too short, participating in sports, diabetes, being overweight, or having a fungal infection of the toe can all cause ingrown toe nails. Many people are genetically prone to ingrown nails and it can often be related to genetics. Often the problem can come from wearing ill fitting shoes, or even from shoes that keep the feet slightly damp.

There are some things that you can do to prevent and treat these painful problems. Letting your toe nails grow a little longer will help prevent this condition. If you do develop an ingrown nail, soaking the toe in hot water will help prevent infection and lessen pain. You may want to add antibiotic soap or Epsom salts to the water. This will help to prevent infection.

If your pain is so severe that it keeps you from everyday activities, it is time to see your podiatrist. Also, if you see a red streak running up your leg, or if your infection is spreading, see a podiatrist immediately. There are many quick treatments that can lessen your pain and have you walking with comfort.