Warning
JUser: :_load: Unable to load user with ID: 64
Tuesday, 26 June 2012 11:21
Flat feet is a foot condition in which the arch of the foot either drops or is never developed. While it is common in babies and small children, it can become a problem if the arch never develops. For adults, the development of flat feet can be brought upon by injury, or may even be a result of pregnancy due to the increased elasticity; however, in adults the flat footedness is usually permanent.

The wet footprint test can be an indicator to diagnosing flat feet. In this test, the individual would place a flat foot on a surface in order to show a footprint. If there is no indentation or indication of an arch, that person may have flat feet. In all cases, it is best to consult a podiatrist if flat feet is suspected or noticed.

Once flat feet has been diagnosed, it can be treated by walking barefoot in beach-like terrain, or wearing insoles. There are two types of flat feet; one being rigid, where the feet appear to have no arch even when the person is not standing, and the other being flexible where the person appears to have an arch while not standing, but once standing the arch goes away. In the case of flexible flat feet, unless there is pain caused by the condition, there is no need for treatment. However, if it causes pain or in the case of rigid flat feet, exercises and orthotic insoles may be prescribed in order to help the arches develop.

In some cases when the condition is severe and all other methods have been exhausted surgery may be required but this is normally avoided due to a lengthy recovery time and high cost.
Sunday, 24 July 2011 22:09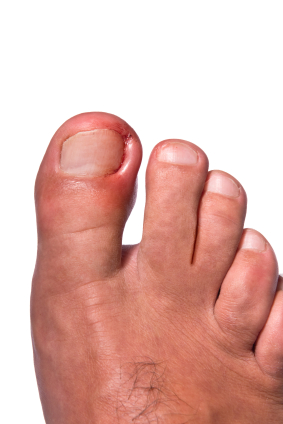 An ingrown toenail is caused when a toenail grows sideways into the bed of the nail, causing pain and swelling. Sometimes this can become infected causing drainage and may become serious.

There are many risk factors that can predispose a person to this common condition. Cutting your nails too short, participating in sports, diabetes, being overweight, or having a fungal infection of the toe can all cause ingrown toe nails. Many people are genetically prone to ingrown nails and it can often be related to genetics. Often the problem can come from wearing ill fitting shoes, or even from shoes that keep the feet slightly damp.

There are some things that you can do to prevent and treat these painful problems. Letting your toe nails grow a little longer will help prevent this condition. If you do develop an ingrown nail, soaking the toe in hot water will help prevent infection and lessen pain. You may want to add antibiotic soap or Epsom salts to the water. This will help to prevent infection.

If your pain is so severe that it keeps you from everyday activities, it is time to see your podiatrist. Also, if you see a red streak running up your leg, or if your infection is spreading, see a podiatrist immediately. There are many quick treatments that can lessen your pain and have you walking with comfort.
More...