Warning
JUser: :_load: Unable to load user with ID: 63
Sunday, 24 July 2011 22:08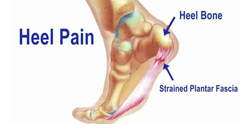 Heel pain is a stressful condition that affects day to day activities. Running and walking causes stress on the heel because the heel is the part of the foot that hits the ground first. This means that the heel is taking on your entire weight. Diagnosis and treatments for heel pain can be easily found through your podiatrist.
One of the main causes of heel pain is a condition known as plantar fasciitis. The plantar fascia is a band of tissue that extends along the bottom of the foot, from the toe to the bottom of the heel. A rip or tear in this ligament can cause inflammation of these tissues, resulting in heel pain. People who do not wear proper fitting shoes are often at risk of developing problems such as plantar fasciitis. Unnecessary stress from ill fitting shoes, weight change, excessive running, and wearing non-supportive shoes on hard surfaces are all causes of plantar fasciitis.
Achilles tendonitis is another cause of heel pain. Similar to plantar fasciitis, inflammation of the Achilles tendon will cause heel pain due to stress fractures and muscle tearing. A lack of flexibility of the ankle and heel is an indicator of Achilles tendonitis. If left untreated, this condition can lead to plantar fasciitis and cause even more pain on your heel.
A third cause of heel pain is a heel spur. A heel spur occurs when the tissues of the plantar fascia undergo a great deal of stress, leading to a separation of the ligament from the heel bone entirely. This results in a pointed fragment of bone on the ball of the foot, known as a heel spur.
Treatments for heel pain are easy and effective as long as problems are addressed quickly. The most common solution is simply taking stress off the feet, particularly off of the heel. This will ease the pain and allow the tendons and ligaments to relax. In the case of both plantar fasciitis and Achilles tendonitis, icing will reduce swelling of any part of the foot and anti-inflammatory medication is highly recommended. Properly fitting your shoes and wearing heel pads or comfort insoles will also reduce the risk of developing heel pain. Stretching before and after exercises such as running will help the foot muscles prepare for stress and lower the chances of inflammatory pain. In extreme cases, relieving heel pain might require surgery. Always make sure to discuss these symptoms and treatment options with your podiatrist to keep yourself active and pain free.
Keywords: Heel pain, Achilles Tendonitis, Plantar Fasciitis, Heel Spur, Heel Pain Treatment, Stress on the Foot, Foot Tissue Tear, Foot Inflammation
Sunday, 24 July 2011 04:55
The branch of medicine that is focused on the treatment, diagnosis, and study of disorders of the lower leg, ankle and foot is referred to as podiatry. Because people often spend a great deal of their time on their feet, many problems in this area can occur. A person seeks help from the field of podiatry when they need treatment for heel spurs, bunions, arch problems, deformities, ingrown toenails, corns, foot and ankle problems, infections, and problems with the foot that are related to diabetes and additional diseases.

To treat problems of the foot, ankle or lower leg, a podiatrist may prescribe physical therapy, drugs, perform surgery, or set fractures. Individuals may also be recommended to wear corrective shoe inserts, custom-made shoes, plaster casts and strappings in order to correct deformities.

When trying to gather information on a patient problem, a scanner or force plate may be used in order to design orthotics. During this procedure, patients are told to walk across a plate that is connected to a computer; the computer then takes a scan of the foot and indicates weight distribution and pressure points. The computer readouts will give the podiatrist information to help them determine the correct treatment plans.

Diagnosis is also provided through laboratory tests and x-rays. Through the foot, the first signs of serious problems such as heart disease, diabetes and arthritis can show up. For example, individuals that have diabetes may frequently have problems such as infections and foot ulcers because they experience poor circulation in the foot area. A podiatrist can then have consultations with patients when symptoms arise and referrals will be made to specialists that handle the greater health problems.

Some podiatrists have their own solo small private practices or clinics where they have a small staff and administrative personnel but many work within group practices. They usually spend time performing surgery in ambulatory surgical centers or hospitals or visiting patients in nursing homes. They typically spend between 30 to 60 hours of week working. Some podiatrists specialize in public health, orthopedics, surgery, or primary care. Some other fields include specialties in geriatrics, dermatology, pediatrics, diabetic foot care and sports medicine.

Some podiatrist specialists complete extra training in the area of foot and ankle reconstruction that result from the effects of physical trauma or diabetes.
More...